Porcelain Catwalk
Through August 21:
The Bayerisches Nationalmuseum currently displays Commedia dell' Arte statuettes designed by internationally acclaimed fashion designers.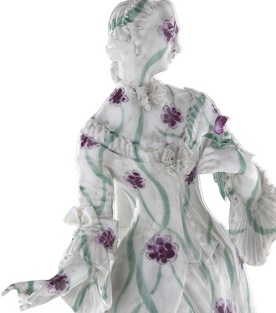 On the occasion of its 260th anniversary in 2008, porcelain manufacture Nymphenburg launched a limited edition of the world-famous Commedia dell'Arte figurines by rococo sculptor Franz Anton Bustelli. And, the porcelain statuettes made their debut in the latest haute couture. Sixteen internationally acclaimed fashion designers—including Vivienne Westwood, Christian Lacroix and Elie Saab—had been invited to redecorate and dress a figurine of their choice. Bustelli's Commedia dell'Arte ensemble established the fame of the Nymphenburg manufacture in the 18th century.
After the Nymphenburg porcelain manufacture displayed the figurines for a few weeks during its anniversary year, the Bayerisches Nationalmuseum currently shows the popular exhibition once again. However, in addition to the porcelain catwalk the exhibition will also include rococo porcelain from the museum's archives, as well as historical robes from the 18th-century of the in-house costume collection. For more information, visit
bayerisches-nationalmuseum.de
.
FIND OUT MORE