Kocherlball
July 17, 6 am–10 am:
The Chinese Tower in the English Garden will host a unique ball at daybreak!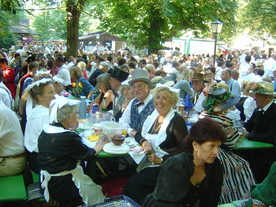 One of the city's most charming summer events will require participants to rise early. Dressing in traditional servant costumes locals will meet at the Chinese Tower to waltz and picnic at dawn. The tradition goes back to the 19th century, when nightly entertainment was reserved for the nobility and the rising bourgeoisie. Undaunted, Munich's domestic servants invented a festivity of their own: Each Sunday morning during the summer, they met before work at the Chinese Tower for a servants' ball. By 1904, city authorities feared a lack of morality at these daybreak events and prohibited the ball. Only twenty years ago, the custom has been revived with increasing popularity: more than 12,000 locals are expected to take part in the historical event.
So, to secure seats in the beer garden area plan on arriving at the ungodly hour of 5 am. The traditional costumes, the view of extraordinarily twisted whiskers and the exceptional atmosphere will be certainly worth the struggle to get up. In case of rain, the event will take place the next Sunday on July 24.
FIND OUT MORE