BMW Art Car Collection
Through June 30:
The BMW Museum presents an extraordinary collection of cars, all of which have been adorned and redefined by internationally acclaimed artists.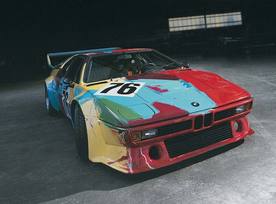 In 1975 Hervé Poulain, an auctioneer with a passion for race car driving, asked his friend and renowned artist Alexander Calder to turn his BMW into a rolling canvas. Poulain competed with the painted car in a race in France. BMW officials present at the contest loved Poulain's innovative symbiosis of art on automobiles and started the BMW Art Car Collection. Since then such renowned artists as Andy Warhol (pictured left), Frank Stella, Jenny Holzer and David Hockney have contributed the to the project. And the collection comprising 17 cars has been on show at museums from all over the world, including the Louvre, the New York Guggenheim and the Palazzo Grassi in Venice.


Now, for the first time, the exhibition has returned to the hometown of BMW. Currently all cars of the art series are on display at the BMW Museum, also including the latest addition to the collection—a race car by Jeff Koons. For more information, visit
bmw-museum.de
.
FIND OUT MORE