Ballet Fest Week
April 22–April 29:
Once a year the stage of the Bavarian State Opera solely belongs to the Bavarian State Ballet.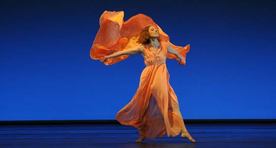 Already a quick glance at the repertoire of the Bavarian State Opera will reveal that performances by the Bavarian State Ballet are rather scarce in contrast to the numerous operatic productions that are presented throughout the season. In order to raise the profile of the ensemble, the Bavarian State Ballet launched the "Ballettfestwoche" (Ballet Fest Week) a few years ago. While this week of dance used to include a great variety of guest performances and an eclectic side program, this year's edition of the festival will be rather modest.
The Ballet Fest Week will open with the premiere of "Gods and Dogs" featuring a choreography by Jerome Robbins. The only guest performers this year will be the Birmingham Royal Ballet, who will present pieces representing British dancing traditions and contemporary tendencies. Apart from these two highlights, the festival has merely scheduled a series of choreographies that can also be found in the ensemble's repertoire all year long. Even though the festival selection may not be entirely inspiring, the members of the Bavarian State Ballet still belong to the world elite of dance and will surely give unforgettable performances. For more information on all performances and events scheduled at the Ballett Fest Woche, visit
bayerische.staatsoper.de
.